This time last year, I was a guest at Christmas. I was driven to a warm house whose owner cooked for several days for a family gathering.
Blind trust has changed my well-laid plans from being a host to a guest at the very last minute. Where do I begin?
If a picture paints a thousand words, what does a video do?
What about a recording in slow motion?
I found a recording from May 2017 which descended to slow motion before picking up the pace just before the end. Which piece was I playing? If I could, I would be exploring interesting arrangements of Christmas songs and sharing them with my friends and family at this time. I had stumbled upon a few and played them in a concert much to the delight of my mother who was visiting Boston for the first time.
One of my regrets is not spending enough time on my recently tuned piano but instead worrying about having heating and hot water in London for Christmas and New Year. At the eleventh hour, I entertained the possibility that I may not get what I wanted for Christmas but be homeless, helpless, and hopeless.
On the day I was flying to London, I phoned my friend who uses electric radiators for his home.
"I switched off the boiler when I left on 17 November," I explained. "The builders were knocking out my kitchen. The boiler was the only thing left intact, outside and exposed to the elements, until the new roof gets installed.  I'm not sure if I can switch it on. Should I get electric heaters? What kind?"
"That's five weeks. You will be walking into a cold house. It was very cold here last week." He was concerned. "Let me get you the heaters."
I shuddered at the prospect of staying in a cold house for three weeks. I was accustomed to not having hot water when the bathroom was being revamped as I could cycle to the gym and use the showers and spa facilities. Not having a heated home was something else. Already I felt miserable having to layer up for the freezing temperatures of Boston. The cold brought on a persistent cough and congestion, never mind dry skin and other conditions.
What do I do with the electric heaters after the boiler can be switched on again? There is little space to keep anything that doesn't get used. That was one reason I hadn't planned for an alternative source of energy. Another was blind faith. I wanted to trust the contractor who had begged me not to cancel the project. In late September when I told him I was cancelling the contract, he promised that the roof would get manufactured and he would give me top priority. I never dreamed it would drag into the winter.
Eager to get the house ready, I had called around for a gas safe engineer/plumber to be on standby. My friend recommended hers.
The Polish gas engineer called me the previous week.  "I've accepted another job. Nobody called me. I can't keep waiting for your roof. There's no point moving the boiler twice. Cancel your trip."
I didn't cancel my trip. I had already spent money and time on changing flights, cancelling rentals and invitations. It's Christmas. Surely the contractor will not let me suffer?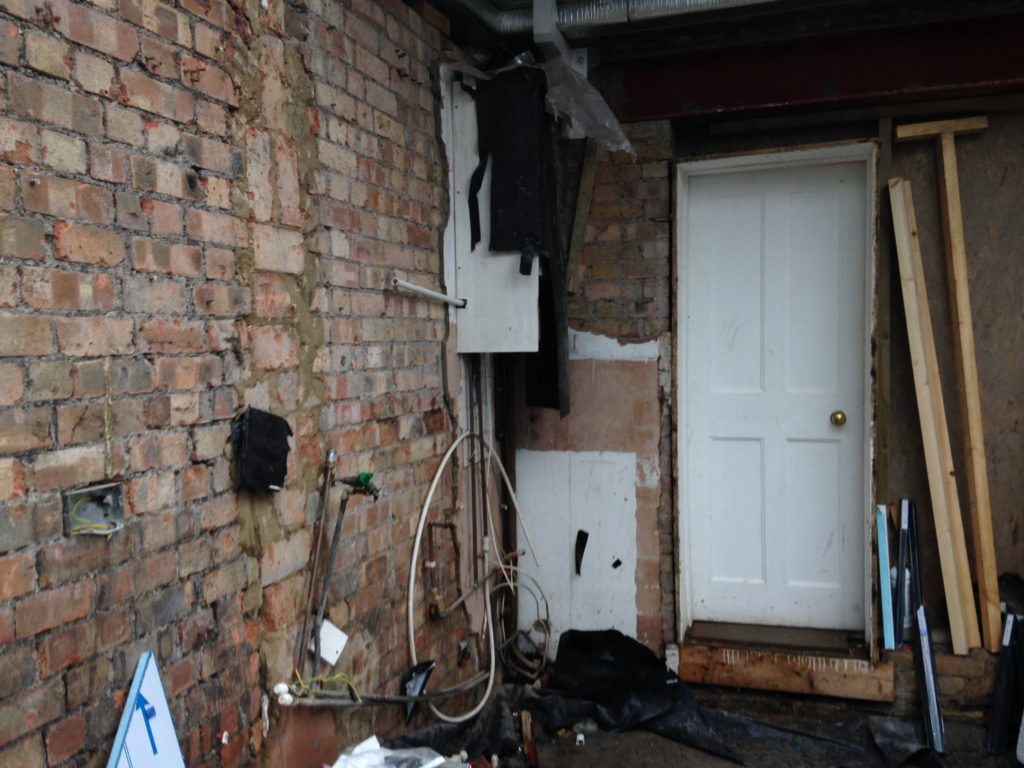 To my surprise and relief, the weather in London was considerably milder than Boston. At 8 am when I walked into the house, the thermostat read 11 degrees Celsius. Relieved it was not freezing but bearable, I unwrapped the boxes containing the electric radiators. My friend had gone to the store in central London, purchased the heaters, drove to the house, knocked on my neighbour's door for keys, and delivered the items.
I switched on both heaters at full blast, placing them on makeshift tiles because I couldn't figure out how to adjust the wheels on castors or seat them on the plastic stands.
The 1kW oil-filled radiator took hours to heat up. In contrast, the 2kW convection or convector radiator warmed up immediately. I microwaved a wheat pack to hang on my shoulders or cover my lap when I sat. I had to keep moving otherwise I could feel the chill creep into my bones. The house felt like a refrigerator.
By evening I was exhausted from trying to keep warm. I tried to get comfortable under two layers of duvet. Both heaters sat near the double bed. Still feeling cold, I texted my friend who had been coming to the house, taking pictures, and updating me on the progress of the roof.
"I will cycle tomorrow else I will get frozen in this house, " I declared.
"Try using two duvets like me. It's super cozy."
"Good idea. I already have two. I will put a third on."
At midnight, I woke up and switched off the 2kW convector heater. The three duvets and 1kW from the oil-filled heater sufficed to help me sleep.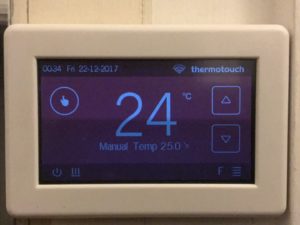 The next morning the bathroom builder brought an electrician to test the new thermostat and conduct a resistance reading. After undoing the box and fiddling with the wires, he got the new electric underfloor heating for the new bathroom to work. The builder had said it worked in mid-November when he finished the job after seven weeks. I protested that it didn't but nothing was done. The electrician showed that the builder had not hooked it up properly.
Upstairs before I left London in mid-November, I had set up a kitchenette with electric kettle, microwave, toaster, and George Foreman single sandwich grill. I had lived with these minimal facilities after the kitchen had been dismantled downstairs.
I had hoped I could use the new walk-in shower. But the boiler was not operable under the new roof structure. Water from the tap was freezing cold.
On the fourth day, the contractor's brother who had started the job three weeks earlier said, "it's all sealed now. You won't get any draught through. This is how you open the bifold doors. And this is how you lock it."
"What about the side window?" I pointed to the opening that had to be halved in size because of fire regulations.
"They are making a new one because they couldn't cut down the larger window to size. They will deliver it the first working Monday in January." Sensing my concern, he added "I will come back next Thursday and Friday to insulate the roof. When you're ready to fit the extractor flue, I'll come back and cut the hole."
He seemed like a reasonable and kind person, so unlike his brother whose verbal and textual abuses have caused me great anxiety and pain. If you want your client to pay, don't treat them poorly and threaten them with abandonment and undoing the structure.