When I was growing up on the island of Okinawa, I listened to John Denver whose songs of love, nature, and beauty described my childhood. I took a personal interest in "Annie's Song" identifying myself with the name.
John Denver wrote this song of love for his first wife in ten minutes on a ski lift. While searching for songs about nature, I came across "Annie's Song" once again recently.
I asked my friend and ex-colleague Connie (a.k.a. Conrad Reeder) what she remembered of her time as a back-up singer forJohn Denver. She pointed me to a chapter in her memoir "Memory Clouds" in which she wrote about the real John Denver.
In the 20th anniversary of his untimely and tragic death, I feel like I'm rediscovering this talented singer and songwriter. He wrote some 300 songs and actively campaigned to protect the environment.
Sung and recorded in the key of D, his original version is a tad too high for me. Interestingly, the chords in the lower key of C major is much easier to play on the ukulele and guitar.
The introduction consists of two chords of C and Csus4 repeated three times, as seen below.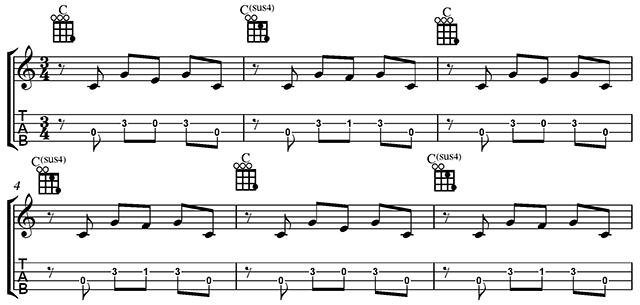 The accompaniment is better picked or plucked rather than strummed. Click on the following sample score to get the one-page PDF for ukulele.