After arranging music for easy piano solo and duets for several years, I am now developing material for teaching the ukulele to complete beginners. It's an eye-opener to observe how quickly, after a short introduction to this four-stringed instrument, one reaches a positive conclusion: "I can play it. I want to play it."
Next questions: where can I get one? how much does it cost?
Unlike the piano, it's not a big investment to buy an ukulele. You can't go wrong spending money on a ukulele. It's affordable. It doesn't take up much room. You don't have to create space or worry about how to get it into your home. You don't need to hire a tuner — you can tune it yourself quickly and accurately with a tiny, clamp-on tuner. It's portable, light, and small. You can travel with it.
As mentioned often in my blog posts, I believe it's easy to write difficult music to play but challenging to write easy pieces that sound not so easy. I have tried to write an easy piece for solo piano, only to learn that it's not easy at all. In the last year, I've transferred my quest of arranging easy piano pieces to finding interesting music and arranging it for ukulele.
A common tuning for the ukulele is that of high G, middle C, E, and A, so-called high-G tuning. It's also possible to lower the G to expand the music range, hence called low-G tuning.
The tuning of G, C, E, and A on the high-G tuned ukulele corresponds to the song "My Dog Has Fleas." Are there other songs that can be created using these four notes?
Here are two arrangements of a simple song by classical guitarist Robert Bekkers on the four open strings. It requires a high-G tuned ukulele to play the melody. Open string means literally "let the string be open, don't press on a fret, just let it sing."
The first arrangement makes use of simple one-finger chords like C and Am. Click on the image to get a bigger, readable version. Here is a one-page PDF of another easy version that runs straight through without repeat bar lines and first and second endings. As you can see, many chords are possible for accompaniment.
To pick the melody, you only need the thumb (down stroke) and index finger (up stroke). The song can be divided into several parts. In the first measure, you pick the middle two strings. In the second measure, you pick the outer strings (top and bottom). These two measures are repeated in the second half of the song. Learn these two measures first. Then attempt the other measures.
The second arrangement includes additional common chords. Click on the image for a more exotic harmony as accompaniment, on a 1-page PDF, without repeat bar lines and different endings. Notice, it's not necessary to play the first Ab in the Ab7 as the chord merely adds colour to the transition to G7. If you experiment with this tune a bit longer, you'll discover numerous chords that work as accompaniment.
Next task: write lyrics for this song and make variations on the theme using different types of strumming and picking patterns.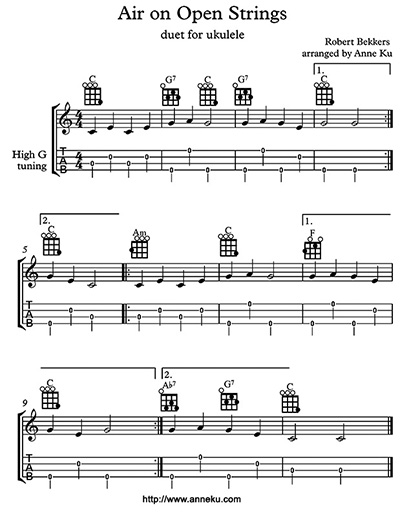 I introduced this tune in my third ukulele workshop for seniors this afternoon. The nine students came up with the following lyrics:
Hello, hello, how are you?
I am fine and are you, too?
When we go outside to play,
Hope we have a pleasant day.